Circus bears arrive at Five Sisters Zoo in West Lothian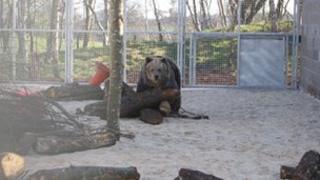 Three bears who were rescued from the circus have arrived at a West Lothian zoo.
Carmen, Suzi and Peggy spent 20 years living in cages barely bigger than themselves, and were transported around Europe as part of a circus troop.
They were rescued in Belgium and taken on by the Five Sisters Zoo in West Calder.
The bears' new home has a large built-in waterfall and stream with indoor and outdoor enclosures.
One of the bears, Suzy, is said to be so traumatised by the conditions she sometimes still keeps walking in small circles.
'Bears to safety'
All three of the bears were born in captivity and are now aged between 23 and 28 years.
A huge rescue effort was launched when the bears' owner became ill and was taken to hospital with a long term illness.
Officials at the Five Sister Zoo started a fundraising campaign to raise £80,000 to build the bears an enclosure.
The non-profit making zoo received donations from fundraisers and local businesses.
Celebrities including actress Joanna Lumley, Chantelle Houghton, Josie Gibson, and Sky Sports presenter Kirsty Gallacher have all backed the campaign.
Five Sisters owner, Brian Curran, said: "We are honoured and astonished by the level of support we have received to bring the bears to safety."