Air-purifying clothes unveiled at Edinburgh International Science Festival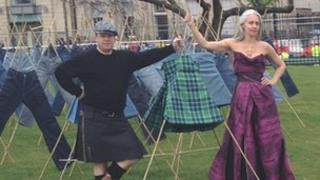 Special clothing which cleans the air around the person wearing them has been unveiled at a science festival in Edinburgh.
Catalytic Clothing, in the form of air-purifying jeans and kilts, are on display as part of the Edinburgh International Science Festival.
The clothes are treated with titanium dioxide which acts as a catalyst, which cleans the air.
Air pollution is neutralised by the clothes as the person walks.
With the help of sunlight, the catalysts neutralise the dirt from the air pollution around the person.
UV light
The clothes could be launched on the market in 2013.
Artist and designer Professor Helen Storey, from the London College of Fashion, and polymer chemist, Professor Tony Ryan, from the University of Sheffield, are behind the project.
The technology is already used in concrete and the surface of buildings to help keep then smog and pollution free.
The Edinburgh International Science Festival runs until Sunday 15 April.