Polar challenge for marathon man Dr Andrew Murray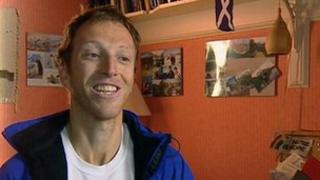 A GP from Edinburgh, appointed as Scotland's physical activity champion, is taking on a gruelling Arctic challenge.
Dr Andrew Murray is among 40 competitors, from 14 countries, competing in the North Pole Marathon.
He will be running 26.2 miles over snow and ice, facing temperatures that could go below minus 30C.
He is hoping his cool feat will inspire others to get active during the Easter break.
Dr Murray was tasked by the Scottish government, earlier this year, with promoting the importance of physical activity.
Last year he completed an epic 3,000-mile run from John O'Groats to the Sahara Desert in Morocco.
'Sheer determination'
He has taken on the North Pole Marathon before, coming fourth in the event in 2007 and this time around will also act as race doctor.
He said: "Getting active and staying active is such an important message, we are taking it to the ends of the earth.
"The North Pole Marathon is an experience of a lifetime. Whilst running, the views and the shapes of the ice are the best painkillers.
"What the race encapsulates is the sheer determination of everyone to succeed."
The GP stressed that people did not need to go to the extremes he does to keep fit.
He added: "Remember that everything counts - any form of activity 30 minutes a day will help massively."