Escaped wallaby on the loose in West Lothian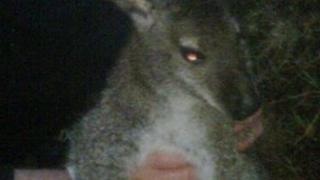 A wallaby which has escaped from the grounds of a fishery is on the loose near the boundary between Midlothian and the Scottish Borders.
The animal swam off an island on a pond at Leadburn Manor, West Linton, with another wallaby on Wednesday.
A local marksman was able to dart one on Wednesday evening, however the other one is still on the loose.
The Scottish SPCA said wallabies are "extremely difficult" to catch because they can reach speeds of 40mph.
Senior Inspector Stuart Murray said: "These wallabies proved extremely difficult to catch and, while we managed to assist with the retrieval of one, another is still missing.
"Wallabies are very fast animals, reaching speeds of around 40mph so it could have travelled quite a distance by now.
"There is a real danger this wallaby could be hit by a car so we are keen to hear from members of the public who see it so we can help bring it to safety."