Cat survives 20ft drop into west Lothian basement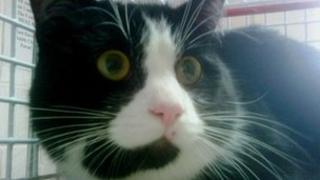 A cat has survived a 20ft drop into a basement in West Lothian.
The one-year-old male cat, who has been named Barrie, was spotted by office workers in the Mid Street basement, Bathgate.
There was no access into the basement other than via a 20ft drop from street level, accessed via Marjoribanks Street.
Scottish SPCA officers used a ladder to climb down into the space to rescue the terrified young cat.
The cat's owner has now come forward to claim him.
No injuries
Earlier Connie O'Neill, of the Scottish SPCA, said: "I'm quite sure Barrie is a house cat as he was literally scared-stiff to be outdoors and didn't move a muscle when I approached him.
"He's been checked over and thankfully he has no injuries despite his fall.
"There are lots of flats in the area so it's possible he has escaped from a balcony or window.
"Barrie's in good condition and is very friendly towards people so he's obviously someone's pet.
"He's around a year old and an entire male, which again would suggest he's been kept indoors."