Mother tells court she was attacked while pregnant by Fife man James Paterson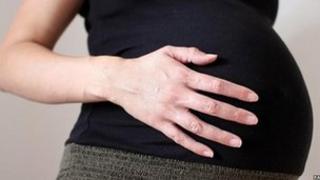 One of three women who claim a man tried to murder them in Edinburgh and Fife has told a court she was raped, bitten and repeatedly strangled by him.
The 20-year-old also claimed James Paterson, 23, from Lochgelly, Fife, kicked her in the stomach when she was expecting a baby.
She told the High Court in Aberdeen she still has Mr Paterson's teeth marks in her arm from more than two years ago.
Mr Paterson denies the allegations against him.
He is also accused of raping two of the three women and attacking two newborn babies.
'Lots of strangling'
Giving evidence, the 20-year-old woman, who was questioned from behind a screen, said: "He locked me in the house because he didn't want me to go anywhere.
"He took my phone so I couldn't phone anybody. He said it wasn't up to me and he could have whatever he wanted."
The woman said there was "lots of strangling" during the time she had known Mr Paterson, claiming she blacked out during two of about six attacks.
She also told the jury how she was kicked in the stomach while pregnant, causing her to fall and bang her head on a door.
When advocate depute Kath Harper asked why she did not leave Mr Paterson or tell anyone what was happening to her at the time, the woman replied: "Because he has got anger problems. He is scary."
Behaviour 'change'
The mother of Mr Paterson's second alleged victim told the court how she was shocked to see a dramatic change in her daughter when she travelled up from her home in England to see her.
She said: "When I did get back home and saw my daughter, she wasn't my daughter.
"She had lost lots of weight, was pale and just crumbled in my arms. She broke down and told me she was pregnant. We just dealt with it the best we could."
Her best friend also described a change in her behaviour and said her friend had confided in her that she had been raped and was being attacked on a regular basis by Mr Paterson.
Mr Paterson denies the allegations and has lodged special defences of self defence in relation to the woman and his third alleged victim.
He is accused of trying to murder all three women, endangering their lives and leaving them severely injured and permanently disfigured.
He is further accused of attacking two babies, sending threatening text messages to his third alleged victim and failing to appear in court.
Mr Paterson faces 11 charges which date from between January 2006 and July last year.
The trial continues.