Funding boost of £80,000 for Scottish veterans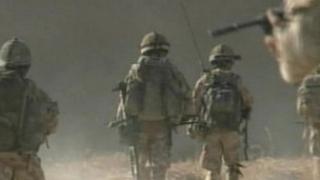 Projects which help Scotland's ex-servicemen and women settle back into civilian life are to share £80,000 of funding.
The money, from the Scottish Veterans Fund, will go to 11 schemes across the country.
It will pay for a range of initiatives from a special garden in Dundee to a project for veterans who have served time in prison.
Veteran's Minister Keith Brown announced the grants in Edinburgh.
Mr Brown, a former Marine who served in the Falklands, visited the Thistle Foundation, which will receive £10,000 for its lifestyle management course.
The foundation, which was founded in memory of one soldier from the Royal Horse Guards killed in the last days of World War II, runs courses to help veterans return to civilian life.
Among other initiatives, money will also go towards setting up a therapeutic gardening project in Dundee, and to providing psychotherapy and counselling at the First Base Agency in Dumfries.
Edinburgh-based Health in Mind will get funding for its work helping people with combat-related stress, and almost £9,000 will go to the ex-offenders charity Apex to set up a facility for veterans leaving prison.
The fund has distributed £400,000 to veterans projects since it was established in 2008.
Mr Brown said: "The Scottish Veterans Fund allocations will provide a welcome boost to organisations who help our veterans and their families return to civilian life.
"From offering training and advice, through to helping people get back into employment, the array of projects across Scotland play a vital role in supporting our ex-service men and women."
Martin Gibson, chairman of Veterans Scotland, which administers the funding, said: "We greatly value the support that the Scottish government offers to veterans across Scotland.
"Helping veterans find their way into employment is a vital element of the Veterans Scotland strategy and the work of the Thistle Foundation is an important source of support for those who have left the services and need to find their way into employment."