James Paterson guilty of attempting to murder three pregnant women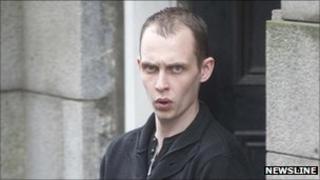 A man has been found guilty of trying to murder three pregnant women, raping two of them and assaulting a baby.
James Paterson, 23, carried out a string of attacks on the women over a period of five years.
Paterson had jumped on one pregnant woman's stomach, throttled all of them and severely injured a baby boy.
He was found guilty of 10 out of 11 charges against him at the High Court in Aberdeen. Sentence was deferred until next month.
Kicked in stomach
Paterson's first victim, 22, previously told the court how he tried to set her on fire and raped her.
His second victim, 20, wept as she described how she was repeatedly "strangled" by him, raped and was kicked in the stomach when she was expecting a baby.
The mother said she still had Paterson's teeth marks in her arm after he bit her more than two years ago.
His third victim said Paterson jumped up and down on her baby bump "like it was a trampoline".
The 23-year-old also told the court he had throttled her three times until she lost consciousness during a string of violent incidents which started when she was between four and five months pregnant.
All three women, who can not be named for legal reasons, told how Paterson choked them, two of them until they blacked out.
Paterson was also convicted of severely injuring a baby boy and endangering his life.
He repeatedly threw the infant against a headboard, stopped the baby's mother from tending to him, dropped him on the floor, bound him tightly in a blanket and rolled him into a cot so he banged his head and body on the bars.
The violence started the day the baby was born.
'Focused investigation'
All of his offences date from between January 2006 and July last year. At the start of the trial Paterson lodged a string of special defences.
Lord Bannatyne deferred sentence for reports until next month at the High Court in Glasgow.
A spokesman for Fife Constabulary said: "This was a long and focused investigation by officers of the Public Protection Unit who worked closely with partners in NHS Fife and Fife Social Work Department to ensure the safety of all the vulnerable adult and child victims in this case.
"Fife Constabulary will continue to provide all the support possible to encourage any victims of sexual or domestic abuse to come forward to report these crimes."