David Gilroy to appeal his conviction for the murder of Suzanne Pilley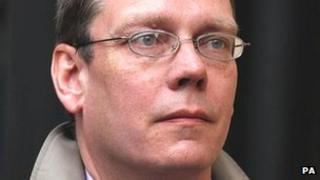 The Edinburgh man who was jailed for killing Suzanne Pilley is appealing his conviction for murder.
David Gilroy, 49, lodged legal papers with appeal court staff in Edinburgh on Thursday.
His legal team will ask appeal court judges to quash his conviction for murdering his ex-partner in May 2010.
He is also seeking to overturn a conviction for attempting to defeat the ends of justice for deliberately "frustrating" the police probe.
Gilroy, from Silverknowes, was convicted at the High Court in Edinburgh in March 2012.
He was jailed for life earlier this month with a requirement he serve at least 18 years before becoming eligible for parole.
Bank account
During his trial, the court heard how Gilroy murdered MS Pilley as she arrived for work at IML in Thistle Street, Edinburgh, in May 2010.
The pair had once been lovers but Suzanne ended the relationship in the months leading up to her disappearance.
Prosecutors believe Gilroy may have strangled Ms Pilley in the basement of IML before driving her body across Scotland to Argyll.
Detectives think Gilroy then dumped Suzanne's body in a grave somewhere near the Rest and Be Thankful beauty spot.
Officers have never recovered the book keeper's remains.
Ms Pilley was spotted making her way to work on 4 May 2010 on several CCTV cameras but was not spotted leaving the office block to return home.
She also has not withdrawn money from her bank account since she was last seen.
Gilroy's lawyers now have have eight weeks to prepare the grounds for the appeal.