Israel flag racism student Paul Donnachie loses appeal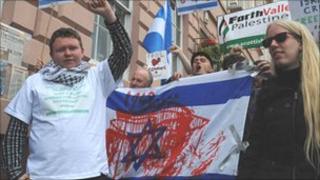 A man who called a Jewish student a terrorist has lost his appeal to have his conviction for racially aggravated behaviour quashed.
Paul Donnachie, 19, was given 150 hours for putting his hands down his trousers before rubbing them on Jewish student Chanan Reitblat's Israeli flag.
Lawyers acting for Donnachie were told by appeal court judges a sheriff did not make a mistake when sentencing him.
Donnachie committed the offence at St Andrews University in March 2011.
The 19-year-old from Blackpool, Lancs, was convicted at Cupar Sheriff Court in September last year of defiling a flag that hung on the wall of American student Mr Reitblat's room.
He also called Mr Reitblat, from New York, a terrorist during the incident.
Sheriff Charles Macnair QC also ordered Donnachie to pay £300 compensation towards his victim, who studies at Yeshiva University, also in New York.
However, Donnachie's legal team believed Sheriff Macnair committed a miscarriage of justice when he did not allow members of a Palestinian Solidarity Campaign group to give evidence during proceedings against Donnachie.
The protesters were expected to tell the court about the political situation in Israel - something which solicitors acting for Donnachie thought was relevant to his defence.
On Tuesday, three judges at the Court of Appeal in Edinburgh refused to grant Donnachie's appeal to have his conviction overturned.
In proceedings that lasted less than a minute, Mr Donnachie's lawyers were told that the appeal had failed.
In a written judgement, The Lord Justice Clerk, Lord Gill, said that Sheriff Macnair had acted correctly when dealing with Donnachie.
He wrote: "There was therefore no substantive miscarriage of justice nor was there an appearance of injustice."
His fellow judges, Lord Mackay of Drumadoon and Lord Bonomy, also refused to overturn Donnachie's conviction.
Donnachie was thrown out of St Andrews University after being found guilty of racially abusing Mr Reitblat following the two day trial at Cupar Sheriff Court.