Teenager mugged at knifepoint in Midlothian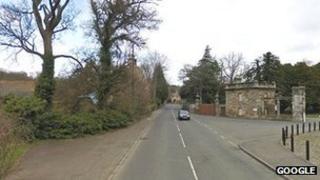 A teenager has been robbed by a motorist who held him at knifepoint in Midlothian.
The incident happened between 05:30 and 06:00 at Newbattle Road, close to Newbattle Abbey College in Dalkeith.
The 16-year-old victim was walking alone when a man pulled up in a white Honda car and threatened him at knifepoint.
He demanded he hand over his personal belongings, which included an iPhone, cash and a gold ring.
The thief then got back in his car and drove off towards Newtongrange.
The mugger is described as white, aged in his early 20s, of stocky build, with strawberry blond shaved hair.
A Lothian and Borders Police spokesman appealed for witnesses and said: "While the victim wasn't injured, he was understandably shaken as a result of being robbed at knifepoint, and we are appealing for any information that can help us identify the suspect."