Pub landlord car killer Lee McNamara given longer jail term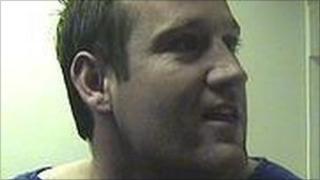 A man who murdered a pub landlord by driving over him has had his minimum jail term increased.
Lee McNamara, 25, was jailed for life last year and told he would spend at least 13-and-a-half years in prison.
He had been found guilty of murdering Steven Curran at the Dolphin Inn at Whitecraig in October 2010.
Judges at the Court of Criminal Appeal in Edinburgh have now ruled that McNamara must serve 16 years before he can apply for parole.
Mr Curran's widow Jill, 47, welcomed the decision but added: "No punishment is going to be severe enough for that kind of crime."
At his trial, judge Lady Clark of Calton told McNamara she would have imposed a minimum term of 15 years for the crime but would reduce it because he had earlier pled guilty to the reduced charge of culpable homicide.
That plea was not accepted by the Crown and he was found guilty of murder after a trial.
Lord Carloway, sitting with Lord Mackay and Lady Cosgrove, said that no discount should have been given in the case and that the 15-year starting point taken by the judge was unduly lenient.
The senior judge said: "This was a murder in which he had deliberately waited for the deceased to emerge from his business premises with a view to attacking him. In that sense the attack was premeditated.
"One of the main aggravating features of the murder is that it was committed in the course of a robbery of the deceased of his keys and car."
Lord Carloway added: "He used the deceased's own car as a weapon to kill him. The act, as depicted in the CCTV recording, is a shocking one."
McNamara reversed over the father-of-two, who was dragged under the vehicle before it was driven forwards over him.
The victim suffered extensive chest injuries, including fractured ribs and breastbone and a collapsed lung.
McNamara, who drank excessively on a regular basis, admitted killing Mr Curran but denied murder. He was found guilty after a five-day trial last year.
Lord Carloway said that a discount on sentence for a guilty plea was not applicable for offences to which the accused had not pled guilty.
The judge said: "It is, for that simple reason, not applicable to the situation which arose in this case, where he tendered a plea to culpable homicide and was convicted of murder."