Edinburgh Festival Fringe censors brochure swear words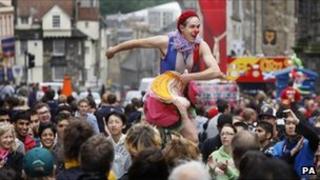 Performers at this year's Edinburgh Fringe have accused the organisers of censoring the brochure - by taking out the swear words.
Comedians including Richard Herring and Stuart Goldsmith have complained that their show titles have been altered.
Asterisks and exclamation marks have been used to tone down offensive language in the brochure and online.
The Edinburgh Festival Fringe Society said the show titles and descriptions should be family-friendly.
Comedian Richard Herring is one several performers to publicly condemn the changes.
In a blog post he said: "[The Edinburgh Festival Fringe Society] are not only censoring words in the entry, but also the title of the show and the advert that I am paying them hundreds of pounds to put in their brochure.
"Now this has more serious repercussions for me personally, but also for artistic freedom at the greatest arts festival in the world."
Family-friendly
A spokesperson for the Edinburgh Festival Fringe Society said: "The Fringe Society is not doing anything this year that it's not done in previous years.
"Whilst one of the most important aspects of the Fringe is the complete freedom of performers and writers to decide on the content of their shows, the Fringe listings and the programme are seen by around one million people and contain over 200 children's shows.
For those reasons they need to be suitable for readers of all ages as they have always been."
However, Mr Herring said that "this has never been an issue before". He said his 2002 show title contained a swear word but was not censored in the brochure or on the festival website.
Comedian Stuart Goldsmith, who was nominated for a Chortle comedy award last year said the changes could cause him to lose ticket sales.
His forthcoming Edinburgh show "Prick" has been changed to "Pr!ck" in the brochure and no results are returned on the festival website if a search is conducted using the show's original title.
More than 400,000 copies of the Fringe brochure are printed every year.
Since 1959, the Fringe has welcomed unknown acts and established entertainers from the worlds of theatre, comedy and dance to become the largest arts festival in the world.
The 2012 Edinburgh Fringe runs from 3 August to 27 August.