Cairn Energy shareholders rebel on pay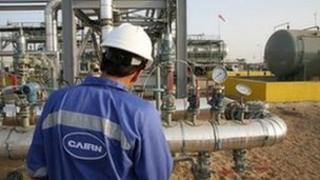 Shareholders at one of Scotland's biggest companies have rebelled against top executive pay.
At the annual general meeting of Cairn Energy, the board sustained a two-thirds vote against the report of the committee that sets salaries and bonuses for the most senior staff.
That follows a plan to reward the chairman, Sir Bill Gammell, with a bonus of more than £3m.
It was to mark his move from the role of chief executive.
It was also designed to reward him for the sale of its Indian business.
That plan was withdrawn. Earlier this year, shareholders were handed a windfall dividend of more than £2bn as a result of Cairn's hugely successful Indian oil strike and subsequent development.
Strong feelings
Sir Bill Gammell acknowledged the strength of feeling among shareholders, though the vote does not change the distribution of pay and bonuses for the past year.
He said: "The board and I fully acknowledge the strength of the views expressed by our shareholders in some of their voting today.
"Cairn endeavours to meet the highest corporate governance standards and is conscious of its responsibility to ensure best practice and continue an open dialogue with its shareholders at all times."
Jackie Sheppard, new chairwoman of the company's remuneration committee, said: "We have taken on board and acknowledge the way shareholders have cast their proxy votes on remuneration."
She added: "We have listened to shareholders' concerns, having had extensive dialogue with investors in recent weeks. Cairn has learned from the recent consultation and is committed to listening closely to shareholders views on governance."
While 67% of shareholder votes were cast against the remuneration committee report, 11% of them were cast against the re-election of Sir Bill Gammell as chairman.
Greenland prospect
Meanwhile the company gave a trading update of its prospects for oil in the seas off Greenland.
Cairn said it was awaiting seismic data before committing to further drilling in the seas off Greenland.
The Edinburgh-based oil exploration company already has a partnership on one field in the area with Statoil of Norway.
Cairn said interim survey findings on a more southerly drilling block were "highly prospective".
If detailed 3D pictures prove as positive, the firm said it would begin further exploration activity.
The firm's first two years of drilling off Greenland did not result in any commercial finds, although there was evidence that Cairn was looking in the right area.
Since then, it has opted to progress by sharing risk with other oil companies. Statoil is the first such partnership, taking on 30% of the risks on one prospect.
Cairn is also working with several oil majors to drill bore holes in Baffin Bay, between Canada and Greenland, from which to draw more information about the area's geology.