Greyfriars Bobby Skye Terrier breed 'faces extinction'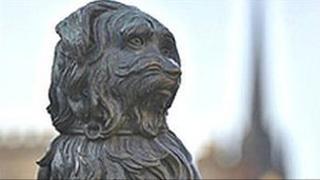 The breed of dog immortalised for its loyalty in the story of Greyfriars Bobby is facing extinction, it has been warned.
Experts fear the Skye Terrier could die out within a few generations after only 44 were born last year.
Bobby found fame as the terrier reputed to have kept a 14 year vigil at his master's Edinburgh graveside from 1858.
Breeders said about 300 births each year were required to maintain a healthy population.
The problem has been blamed on a lack of public demand for the dogs, as well as a narrowing gene pool.
Cathie McLeod - who has bred the dogs for more than 40 years - said part of the reason for the terrier's decline was that dog-owners were moving towards cross-designer breeds.
She said owners were buying dogs such as labradoodles and cockerpoos rather than opting for a "good old-fashioned breed".
Ms McLeod said: "Numbers of Skye Terriers are dropping year-by-year and part of the reason is that people aren't aware the breed exists - they're not visible."
'Fickle tastes'
For more than 150 years, tourists to Edinburgh have taken time out of their trip to visit the Greyfriars Bobby bronze statue in the Old Town.
Breeders and their terriers will come together for an event on Sunday - beside the famous bronze - to raise awareness of the problem and promote the breed.
There are now roughly the same number of Skye Terriers alive in the world as there are tigers, according to figures from breeding clubs in America and Finland.
There are only 3,500-4,000 Skye Terriers across the world. Estimates put the number of tigers at between 3,000 and 4,000.
The terriers are now also fourth on the Kennel Club's list of under-threat breeds.
A spokesperson for the Kennel Club said: "The Skye Terrier is one of the most endangered native dog breeds in this country.
"Celebrities, popular culture and fashion play a big part in today's society and unfortunately, dogs are not immune from our fickle tastes.
"Exotic and foreign dog breeds and handbag dogs have rapidly increased in popularity whilst the lesser-known native breeds have suffered."