RAF Leuchars airshow: Display event to run this year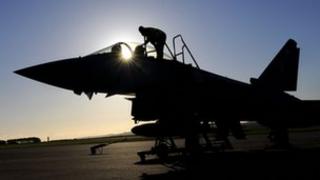 Leuchars airshow in Fife is going ahead this year, officials have confirmed.
The future of the event, which attracts 50,000 people every year, was thrown into doubt last year when it was announced the base is to close in 2014.
However, now it has been revealed there will be a show this year, and possibly even next year as well, before the base closes.
The Red Arrows have already been signed up as part of the programme for 15 September.
The Battle of Britain Memorial Flight (BBMF) is also on the bill.
Jon Greenhowe, RAF Leuchars airshow director, said: "The Red Arrows and the Battle of Britain Memorial Flight are firm crowd favourites and we are delighted that they will be joining us on 15 September.
"That date is recognised as Battle of Britain day so it is particularly appropriate that the BBMF should be part of our display marking the contribution of 'The Few' in this very special Diamond Jubilee year.
"The Red Arrows are acknowledged as one of the world's premier aerobatic teams and their thrilling display, in their 48th season, will be a treat for what we hope will be a bumper crowd as we celebrate the contribution of the Armed Forces during Her Majesty the Queen's 60 year reign."