Dog saves fox cub trapped in pipe at Edinburgh Royal Infirmary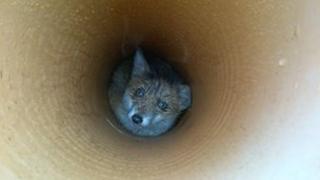 A fox cub which got trapped in a pipe has been rescued after a dog raised the alarm.
Rover, an 11-year-old collie cross Labrador, stood beside the pipe in the grounds of Edinburgh Royal Infirmary at Little France and barked to get the attention of his owner.
The Scottish SPCA then rescued the 10-week-old cub, named Jacob.
He is now being cared for at the charity's National Wildlife Rescue Centre in Clackmannanshire.
Rover was out for a walk on Thursday when he came across the fox and alerted his owner by barking and refusing to move from the spot.
Steph Grant, of the Scottish SPCA, said: "The overflow pipe that Jacob had become trapped inside was extremely narrow and there is no way he would have been able to get himself out.
"Thankfully, I was able to rescue him from the tight spot he was in and, although frightened, he didn't have any injuries.
"We don't know how he managed to get himself into the pipe but one thing is for sure, Rover is a true canine hero for finding him."
Colin Seddon, the Scottish SPCA's rescue centre manager, said: "Jacob was very lucky to have been discovered as he would have perished otherwise.
"He's coming on really well and is now eating solid food.
"We've introduced him to three other fox cubs in our care and we are hopeful that they will all be released at a carefully selected site when they are at the right age and stage to be able to fend for themselves in the wild."