Life ban for pony neglect woman from Fife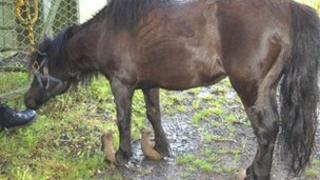 A Fife woman has been banned from keeping animals for life after she admitted causing a pony unnecessary suffering.
Martha Balmain, 70, from Thornton, was also fined £600 for failing to provide veterinary treatment for 10-year-old Shetland pony called Smudge.
His hooves were so overgrown he had a severe pedal bone rotation which was causing him mobility problems.
Vets were forced to put him down because he was unable to recover.
At Kirkcaldy Sheriff Court on Tuesday, the sheriff made an exception to the ban to allow Balmain, who breeds and owns about 40 dogs, to keep dogs.
Mike Flynn, of the Scottish SPCA, said: "We welcome the life ban that has been imposed on Balmain for this offence.
"However, we are disappointed that the ban does not extend to all animals as, in our opinion, Balmain has demonstrated that she is unfit to keep any animal through her failure to provide any sort of veterinary treatment for the pony that suffered so tragically in her care."