Hibernian striker Garry O'Connor 'gave false name'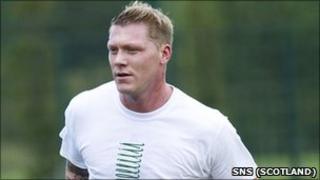 A Scotland football international gave a false name to police who questioned him over drugs but misspelled it and then ran away, a court has been told.
Edinburgh Sheriff Court heard Hibernian striker Garry O'Connor had been spotted holding a piece of paper to his nose in the back of a Land Rover.
It was said Mr O'Connor had given his name as "Johnston" and run off after starting to spell it as "J..O..S".
He denies possessing cocaine in three locations in Edinburgh.
He further denies obstructing police.
The striker was caught after he ran about 300m from the officers, and was found shaking and "out of breath," a constable said while giving evidence to the trial.
PC Andrew Morrow said he had been on patrol in George Street in the capital on the night of 14 May 2011.
He said he had seen a man holding a rolled piece of paper to his nose in the back of a white Land Rover.
The police officer said: "There were four persons in the vehicle. A male was putting a piece of paper towards his nose."
The officer then opened the door to the Land Rover, which was parked in Hope Street Lane.
He said: "At that time I believed the male was snorting cocaine or something along those lines."
The man, whom he identified as Mr O'Connor, appeared "nervous and distracted", he said.
PC Morrow said he had seen a bag containing white powder and a rolled-up £20 note in the middle of the back seat of the car.
After speaking to another man in the car, he then chased Mr O'Connor a distance of around 300m towards Rose Street.
The player was stopped by another police officer.
"He was very nervous-looking, he was out of breath, he appeared to be shaking," PC Morrow recalled.
Another officer, PC Katherine Eager, said she had spoken to Mr O'Connor while he was sitting in the Land Rover.
She said Mr O'Connor had initially tried to give a false name, but fled after spelling it wrongly.
When fiscal depute Ian Wallace asked PC Eager what the footballer had initially said his name was, she said he had given the name "Johnston".
White powder
She continued: "I asked him how it was spelt, he replied J..O..S, then didn't finish.
"I asked: 'Come on what's really your surname?' I could smell alcohol on his breath."
When Mr O'Connor brushed past them and ran away, the two officers gave chase and found a bag containing a white powder when they searched Mr O'Connor's trouser pocket.
Mr O'Connor is said by police to have said words to the effect "that was put there" when officers found the bag.
The footballer was arrested and taken to St Leonard's police station, where another bag of white powder was found in another trouser pocket.
He was strip-searched, and subsequent tests showed the bags taken from Mr O'Connor contained cocaine, the police officers said.
Mr Wallace asked PC Eager: "The items tested negative initially, but ultimately tested positive for cocaine?"
She replied: "Yes."
Mr O'Connor's defence agent, Liam O'Donnell, said his client's arrest was unlawful as police had not detained him before he ran away.
The evidence against the 29-year-old could, therefore, not be led, he argued.
"He had every right to run away," Mr O'Donnell said.
He added: "He was neither detained nor arrested under any of the available powers and as such he was entitled to run away. He was under no compulsion to stay with the officers."
Mr O'Donnell continued: "If he's arrested for something he's entitled to do then it was unlawful and cannot be admitted."
The case, before Sheriff Derek McIntyre, is due to continue later this week.