Puppy with two broken legs dumped in Fife park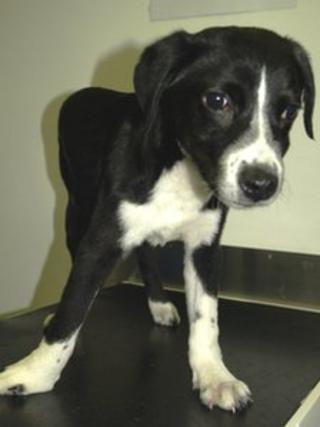 A puppy with two legs that were so badly broken one might have to be amputated has been found dumped in a box in a Fife park.
The male Labrador-Staffordshire bull dog cross was found on open ground between Methil Brae and Ossian Crescent in Methil, at about 23:30 on Sunday.
The five-month-old dog had suffered two fractures, one to his left rear leg and another to his right fore leg.
The Scottish SPCA said he was in pain and unable to walk.
Senior Inspector Steven Gray, of the Scottish SPCA, said they had named him Cody.
Enduring injuries
Mr Gray said: "Cody has suffered trauma to two of his legs, one is so severe that it may require amputation.
"I've no doubt this wee pup was suffering from a great deal of discomfort and stress when I collected him on Monday as he was completely immobile and had a very high temperature.
"Despite this, he is a surprisingly resilient little guy who has given no cries and appears to be quietly enduring his injuries."
He added: "Cody is a lovely-natured young dog so we can't understand why anyone would abandon him while suffering from, not one, but two leg breaks. It's also inexcusable that his owner did not take him straight to a vet for treatment for his injuries.
"We are urging anyone who recognises Cody and knows who owned him to call our animal helpline on 03000 999 999."
Causing unnecessary suffering and abandoning an animal are both offences under the Animal Health and Welfare (Scotland) Act 2006.
Anyone found guilty of doing so faces being banned from keeping animals for a fixed period or life.