Fluid spill on Forth Road Bridge: Long term damage prevented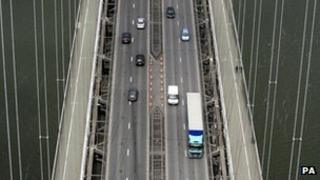 Forth Road Bridge managers have said they are "optimistic" no lasting damage was done to its road surface following a lorry spill of hydraulic fluid.
Traffic heading north was restricted to a single lane and delays built up throughout the rush hour period on Monday following the one-mile spill.
As well as the risk of causing cars to skid, the fluid can soften and weaken the bridge's mastic asphalt surfacing.
Special vehicles sprayed detergent on the road and vacuumed it up again.
Vacuum it
Chief engineer and bridgemaster, Barry Colford, said: "It was essential we removed the spill as quickly as possible in order to prevent lasting damage.
"For the same reason, we couldn't use abrasive methods to scrub the road surface clean.
"Our solution was to bring in three specialist road cleaning vehicles, which worked together to spray large quantities of detergent onto the road and then vacuum it up again.
"The hydraulic fluid had permeated the asphalt, so it took numerous passes to extract it."
He added: "Many people were stuck in traffic for several hours, so as soon as we judged it safe to do so we reopened both lanes and allowed the traffic to clear before closing the carriageway again later that evening and working through the night to remove the last traces of fluid.
"At this stage we are optimistic that we have prevented any long-term damage to the road surface, although we will continue to monitor its condition."