'Bling' dummy warning after online traders caught in Fife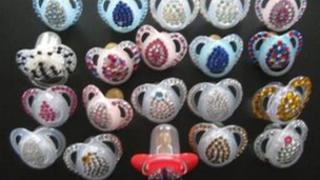 Two "bling" dummy traders have been caught in Fife prompting the council to warn mothers against buying them because of the risk of babies choking.
The online traders were customising babies' dummies with coloured gems.
But the glue used to add pieces can soften when the dummy is cleaned in hot water and the toy gems can partly block airways.
Anyone caught selling the dummies or bottles face a fine of up to £20,000, Trading Standards have warned.
Cottage industry
Geoff Bates, Fife Council's service manager, said: "If you have bought one of these dummies do not give it to your baby.
"It is not worth risking your child's health for the sake of a gimmick.
"We advise anyone who decorates these dummies as a cottage industry to stop as they are unsafe and do not comply with safety regulations.
"These customised dummies and other child products, such as dummy clips, baby bottles and feeding bowls, should not be confused with novelty childcare items manufactured by reputable companies which do meet the necessary safety standards."
Both online traders have been stopped from manufacturing any more dummies.