Edinburgh International Film Festival unveils programme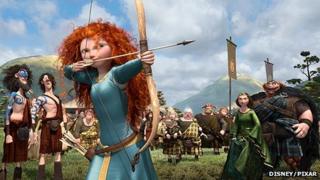 A series of world and European premieres have been announced for the 66th Edinburgh International Film Festival.
The festival will showcase 121 new films from 52 countries , with 19 world premieres, 11 European premieres and 76 UK premieres.
Highlights include 7 Days In Havana, with Benicio Del Toro, and Disney/Pixar's animated feature Brave.
The film festival will run from 20 June to 1 July.
Horror film Killer Joe, from Exorcist director William Friedkin, will open the festival.
The closing Gala will be the European premiere of Brave on 30 June at the Festival Theatre Edinburgh.
The film, which is set in a mythical Scottish Highlands, will premiere at the end of the festival.
Several of the characters are voiced by Scots, including Billy Connolly, Kevin McKidd and Craig Ferguson.
Kelly Macdonald provides the voice for the main character, a princess called Merida, and Robbie Coltrane voices a lord called Dingwall.
Masterclass
Other highlights include Shinya Tsukamoto and Wang Bing, who will bring together a collection of their films.
They include Japanese cult director Tsukamoto's latest project Kotoko, and will culminate in a masterclass with Wang Bing, who will discuss his documentary film-making career.
Accompanying their respective films, Ivivan Las Antipodas! and California Solo, will be director Victor Kossakovsky and actor and EIFF patron, Robert Carlyle.
They will also have on-stage events, with Victor Kossakovsky presenting a masterclass, while Robert Carlyle will be the subject of 2012's In Person: Bafta Scotland interview.
'Fascinating story'
EIFF artistic director Chris Fujiwara said: "Our programme reflects the exceptionally vibrant state of current cinema.
"Our audiences will be able to explore a wide range of outstanding films from around the world, including work by established masters and films from new and emerging talents.
"There are also some no less exciting discoveries to be made this year in our retrospectives.
"Altogether it's a rich and diverse programme that tells, I believe, a fascinating story about where cinema is today, what it can learn from the past, and where it is going in the future."
Following last year's Film Council funding being pulled, the British Film Institute has given £250,000 to the film festival as a one-off sum this year.
The prestigious Michael Powell Award for best British feature film in 2012 has also been reinstated this year after it was dropped in 2011.
This year will also see red carpet events back and more focus on debate and discussion.