Fife Facebook 'riot' message teenager Stephen Nisbet sentenced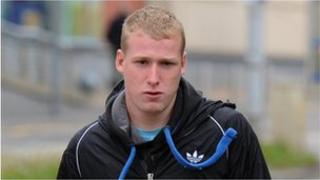 A teenager who tried to incite a riot during last summer's disorder has avoided being jailed after admitting the offence.
Stephen Nisbet, 19, from Kirkcaldy, Fife, must carry out 240 hours unpaid work "as a direct alternative to a custodial sentence".
He plead guilty to breach of the peace, and racially-motivated conduct.
He will be made subject to a Community Payback Order of two years with a supervision requirement.
Dunfermline Sheriff Court heard how Nisbet was "in the bottom 4% in the country" for intelligence.
Facebook friends
Nisbet, who boasted online "I am 19 Years Old With The Brain Of An 11 Year Old" and posed brandishing a bottle of Buckfast, created a Facebook page titled "Kirkcaldy Riot".
He urged encouraged followers to join a "mob" and "loot shops" in the Fife town last August.
He invited all of his 200 "Facebook friends" to attend, and made the page open to the public, so anyone would be able to access it and join the group.
No-one did, and Nisbet later told police officers he had done it "for a laugh".
'Lack of intelligence'
While he was on bail for the offence, however, he went back on Facebook and urged others to "fight the Polish".
Claire Bremner, prosecuting, told Dunfermline Sheriff Court that the first incident occurred on 11 August 2011 and the second on 18 September 2011.
Sheriff Craig McSherry said: "I appreciate when reading an entry on Facebook you can't take on the level of IQ of the author.
"I can't see anyone who has made positive responses.
"The fact that you have been released and within a month you have incited others to come to fight the Polish could be regarded as a continuation of your offending behaviour. It could also be proof of your immaturity and lack of intelligence."