Charities call for boycott of Bobby Roberts Super Circus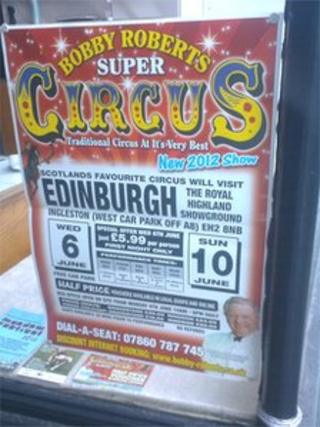 Two animal protection charities are urging people to boycott a travelling circus which is arriving in Edinburgh next week.
Bobby Roberts Super Circus will visit the Royal Highland Centre at Ingliston from 6 to 10 June.
OneKind and the Captive Animals' Protection Society said the owners are due to appear in court in June accused of causing suffering to an elephant.
A spokeswoman for the circus said it had "nothing to hide".
'Doors open'
Sixteen horses perform with the circus, which said it was "proud" to have entertained the public for 60 years.
An elephant named Anne retired to Longleat Safari Park last year after working for the circus for 59 years.
The circus spokeswoman said: "We have nothing to hide and are inspected regularly by welfare officers belonging to councils.
"We had an unannounced inspection from the Scottish SPCA last week in Galashiels.
"We have no objection to inspections and our doors are open to legitimate animal welfare groups."
Libby Anderson, OneKind policy director, said: "Making animals travel long distances, suffer confinement and often intensive training methods, and perform meaningless tricks for entertainment, is a thing of the past.
"The majority of circuses in the UK no longer use animals in their performances.
"We would like the compassionate people of Edinburgh to make it clear that they will not tolerate the exploitation of animals. We urge them to visit only human circuses."
Liz Tyson, Captive Animals' Protection Society director, said: "With the Scottish Parliament beginning to discuss whether or not the keeping of wild animals in circuses should be formally banned, we sincerely hope that the use of wild animals in circuses will soon be a thing of the past in Scotland."