Mother guilty of killing lover Lisa-Ann Quigley in Fife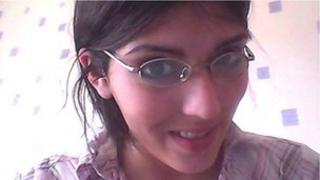 A mother has been found guilty of stabbing to death her lover, who taunted her for being a "mummy's girl" in a Fife flat.
Shazia Johnston stabbed a knife into the heart of Lisa Ann Quigley, 30, at her Kirkcaldy home on 11 October 2011.
Johnston was convicted of a charge of culpable homicide while under provocation following a trial at the High Court in Glasgow.
She had originally faced an allegation of murder.
Johnston will be sentenced next month.
Johnston said she lashed out to stop an attack on her and her toddler son but she had no injuries.
The court was told the couple had a turbulent relationship, including claims Miss Quigley thought the killer was cheating on her with men.
The jury heard how Miss Quigley had started yelling at Johnston on the night of the killing.
Johnston, who had been bathing her young son at the time, ordered her lover out of her Kirkcaldy flat.
Miss Quigley was said to have replied: "You going to get your mummy to help. You are a mummy's girl."
Johnston claimed she came into the living room and Miss Quigley was "swirling" a knife in her hand.
Johnston said her girlfriend then grabbed her by the hair and poked the blade towards her.
The accused, who was holding her child by this time, told the court she was "really scared" and grabbed another knife that was nearby.
She lashed out at Miss Quigley, who fell onto a couch. It was claimed Miss Quigley stormed back up and, in a bid to defend herself, Johnston struck her with the knife.
Johnston fled with her son leaving her girlfriend bleeding to death.
Miss Quigley was eventually discovered "crying for help" by paramedics, but never recovered having been stabbed in the heart.
Det Sgt Colin Robson, of Fife Constabulary, said: "This was a brutal and senseless act which brought a young life to a premature end.
"I would like to thank the members of the public who helped us in this enquiry and also re-assure the people of Fife that we will continue to work hard to target violence in the home and make Fife a safer place to live."