Legionnaires' cases confirmed in Edinburgh outbreak rise to six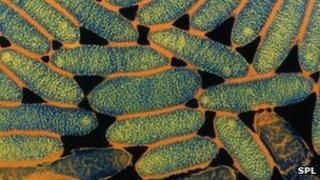 Two more cases of Legionnaires' disease have been confirmed in Edinburgh.
It brings the number of people known to have contracted the illness following an outbreak in the city to six.
They all are being treated in intensive care or in high dependency units. Four others are suspected of having the disease.
Industrial water cooling towers in the south west of Edinburgh, where all of the cases have come from, have been identified as a potential source.
Samples have been taken from four towers and sent for analysis.
NHS Lothian said six men were being treated for the disease, with four other potential cases being investigated.
All 10 are linked geographically to the Dalry, Gorgie and Saughton areas. The first case was identified on Thursday 28 May.
The Legionella bacteria is commonly found in sources of water, such as rivers and lakes. It can end up in artificial water supply systems, including air conditioning systems, water services and cooling towers.
The health board has reassured residents the source is not thought to be linked to domestic water supplies.
Dr Duncan McCormick, consultant in public health and chair of the incident management team, said: "Investigations into the possible source of this outbreak are on-going and we continue to urge anyone who develops symptoms of Legionnaires' disease to contact NHS 24 or go to their GP."
The source of the outbreak was being investigated by the city council's environmental health department and the Health and Safety Executive.
Colin Sibbald, environmental health manager at the City of Edinburgh Council, said: "It was identified that the potential source was most likely from some form of wet cooling tower connected to air conditioning systems or processes.
"Environmental health officers identified two premises in the west of the city that had these cooling towers. Samples were taken from their towers and have been sent for analysis."
He added: "This morning, two further premises have been identified in the west of the city, which officers have also visited to take samples.
"Those responsible for the maintenance of the cooling towers at these four locations have been advised to carry out additional chemical treatment of the water within the cooling system as a precautionary measure."
Other possible sources were not being ruled out.
Legionnaires' disease is not contagious and cannot be spread directly from person to person.
It is contracted by breathing in small droplets of contaminated water.
Symptoms include mild headaches, muscle pain, fever, a persistent cough and sometimes vomiting and diarrhoea.
NHS Lothian said some GP surgeries would be closed on Tuesday for the Jubilee bank holiday.