Royal salute at castle marks Duke of Edinburgh's birthday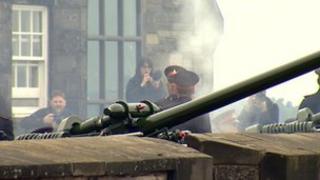 A 21 gun salute has been fired from Edinburgh Castle to mark the Duke of Edinburgh's 91st birthday.
It was fired at noon by soldiers from the 40th Regiment Royal Artillery, also known as the Lowland Gunners.
It was the last time they will fire a royal salute because the regiment is due to stand down from active duty due to army reorganisation.
The Duke spent his 91st birthday on Sunday at home after being released from hospital with a bladder infection.
Before the event, Lt Col Baz Bennett, commanding officer of 40th Regiment, said: "It is with great honour that personnel from 40th Regiment Royal Artillery (The Lowland Gunners) will conduct the royal Salute in Edinburgh, to mark the Duke of Edinburgh's 91st Birthday.
"The occasion reaffirms the regiment's Scottish heritage, particularly our links to the fine city of Edinburgh.
"This will be the last time the regiment will fire a royal salute due to the fact that 40th Regiment will be placed into suspended animation later this year."
He added: "The royal salute provides a fitting curtain-raiser to the regiment's forthcoming parade in Edinburgh on the 22 June, at Edinburgh Castle an event which promises to be grand both in scale and as a spectacle.
"Additionally, it is important to consider that 110 personnel from 40th Regiment have just returned from Afghanistan where they served with distinction."