Gary Kennedy sentenced over Facebook message about riot in Leven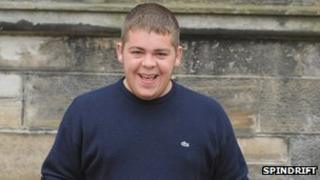 A man has been ordered to carry out 200 hours of unpaid work after he used a social media site to try to incite a riot in Fife.
Gary Kennedy, 20, from Methil, invited other Facebook users to a page titled: "Let's cause riots in Fife", asking people to join a riot in Leven area.
It came during last summer's disturbances in several English cities.
He was also placed on supervision for 18 months. Kennedy had earlier pleaded guilty to breach of the peace.
Kirkcaldy Sheriff Court heard how the offence was committed on 17 August 2011.
'Dust settled'
Sheriff Grant McCulloch told him that it was only because his Facebook friends had more sense than him, and had ignored his pleas, that "serious disorder" was averted.
The sheriff told him: "This was a very serious threat to public safety at the time of those appalling riots in England.
"The dust on that is now settled, and hopefully it won't happen again.
"Yours action might have had very serious repercussions."
He added: "Others have been jailed for this, including some in Scotland.
"Your personal circumstances indicate that you may be suitable for another outcome. I am giving you a community payback order, and this is an alternative to custody."
Susannah Hutchison, prosecuting, said that the page had been reported to Fife Constabulary by two separate people who had been invited to it last August.
Unpaid work
Last month, Stephen Nisbet, 20, became the first Scot to avoid being jailed for the offence.
Nisbet, who boasted online "I am 19 ears Old With The Brain Of An 11 Year Old" and posed brandishing a bottle of Buckfast, created a Facebook page titled "Kirkcaldy Riot".
He was ordered to carry out 240 hours of unpaid work and placed on supervision for two years by a sheriff at Dunfermline.
Last week, Liam Allan, 19, the first person in Scotland to be arrested for trying to incite riots using Facebook was jailed for 19 months at Dundee Sheriff Court and last year two other Dundee teenagers, Jordan McGinley and Shawn Divin, were jailed over similar Facebook pages.
Both received three-year prison terms after admitting starting a page called "riot in the toon".
After appealing they had their jail terms cut to 27 months and 29 months respectively.