Edinburgh Legionnaires' outbreak: HSE orders Macfarlan Smith to clean tower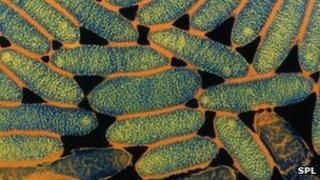 An Edinburgh pharmaceutical company linked to a deadly Legionnaires' outbreak has been ordered to thoroughly clean one of its cooling towers.
The Health and Safety Executive also told Macfarlan Smith to provide access to the tower for inspection and maintenance.
Last week another company, the North British Distillery, was told to improve its disease control at a cooling tower.
Two more cases of the disease were confirmed on Monday.
There are also a further four suspected cases, bringing the total number of confirmed cases to 39, with 49 suspected cases. Fourteen people remain in intensive care.
The HSE stressed that the improvement notices served on the firms did not mean they had been identified as the source of the disease.
The only person to have died during the outbreak, 56-year-old Bert Air, worked a short distance from both the distillery and the pharmaceutical plant, which are situated in the Gorgie area of the capital.
The HSE said the enforcement action against Macfarlan Smith was part of an ongoing investigation into the Legionnaires' disease outbreak in south west Edinburgh, and visits to other companies were being carried out.
It warned that the source of the outbreak may never be conclusively identified, based on experience from previous outbreaks.
The improvement notices allege that Macfarlan Smith failed to maintain their control measures for the safe operation of the cooling tower to the required standard.
It does not indicate an immediate risk from the legionella bacteria, as this was being controlled by the emergency dosing of chemicals and the company's subsequent voluntary shutdown of the cooling tower.
Both notices can be appealed by the company within the next 21 days.
HSE can issue an improvement notice where it believes there has been a contravention of health and safety law.