Princes Street Gardens Ferris wheel put on hold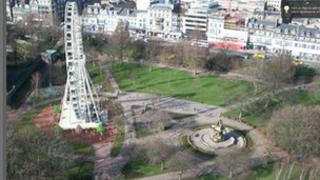 Plans for a 60m tall Ferris wheel in Edinburgh's Princes Street Gardens have been put on hold due to problems building the structure.
Engineers have been unable to get heavy pieces into the gardens because they would need to be transported over a rail bridge with a weight restriction.
They are also unable to access the gardens from Princes Street due to the tram works.
The initial plan had been for the wheel to be open from April to October.
An Edinburgh City Council spokeswoman said: "We continue to remain supportive of Great City Attractions, who face a complicated engineering challenge getting the wheel into Princes Street."