New 'significantly radioactive' particle found at Dalgety Bay beach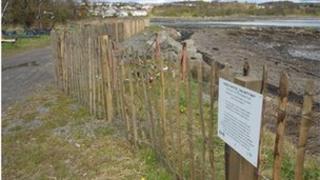 Scientists have discovered a third "significantly radioactive" particle at a Fife beach.
It was found outside the cordoned-off area at Dalgety Bay where more than 2,000 radioactive objects and particles have been unearthed since October 2011.
The latest particle, believed to date from a time when aircraft were scrapped at the bay, was found in April.
Radium from wartime aircraft is thought to have been in landfill which was used when the foreshore was reclaimed.
The radioactive material was found in front of the headland at Dalgety Bay beach, outwith the section of foreshore which remains cordoned off to the public.
The Scottish Environment Protection Agency (Sepa) said the particle was the third one measuring about 2MBq which had been found in the area.
Comprehensive investigation
The level of activity was "significantly higher" than was usually found at the beach, but lower than the two "very high activity" particles which had previously been discovered. They measured 76MBq and 13MBq.
"It was not in the cordoned off area, but was in a section of the beach that is not often used and is covered over at high tide," said Sepa.
"The source, which further demonstrates the need for a comprehensive investigation of the contamination, is currently undergoing testing."
Sepa informed the Dalgety Bay Forum of the latest finds on Monday.
Sepa believes the waste has come from previous Ministry of Defence activities because radium luminised dials with numbers on the back can be traced back to military aircraft.
Dalgety Bay beach avoided becoming the first in the UK to be designated radioactive contaminated land after the MoD agreed to carry out a detailed investigation of the area.
A report is due next May, after which a plan is to be put in place to clean the beach.