Rapid rise in Scots children with bowel diseases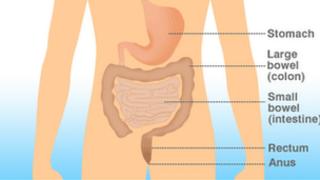 An increasing number of children in Scotland are being diagnosed with inflammatory bowel disease, a new Edinburgh study shows.
Researchers said a rise in cases, up by more than 75% in the past 13 years, could be due to poor diet, lack of sunlight and low levels of Vitamin D.
The study found between 2003 and 2008, 436 under-16s in Scotland were diagnosed with the disease IBD.
IBD includes Crohn's disease and ulcerative colitis.
It compares with just 260 cases between 1990 and 1995, when Edinburgh researchers last looked at rates of inflammatory bowel disease in Scottish children.
The research team said they hope to start looking into whether specific interactions between lifestyle, climate and the genetic make-up of Scottish children can explain the rise.
'More serious'
Children can also suffer from a further condition, inflammatory bowel disease unclassified (IBDU), which affects the colon but lacks the distinguishing features for doctors to diagnose it as Crohn's disease or ulcerative colitis.
Of the 436 children diagnosed with IBD, twice as many had Crohn's disease than ulcerative colitis or inflammatory bowel disease unclassified, the study showed.
Almost five in every 100,000 children were newly diagnosed with Crohn's disease in Scotland every year of the study, while the number of children newly diagnosed with ulcerative colitis was two per 100,000 and one per 100,000 for inflammatory bowel disease unclassified.
The study of all Children's hospitals in Scotland, led by Edinburgh University also found children are being diagnosed with Crohn's disease and ulcerative colitis at an earlier age than previously.
David Wilson, Professor of Paediatric Gastroenterology and Nutrition at the University of Edinburgh, said: "We already knew that children in Scotland are more likely to develop IBD than those in any other nation in the UK, now we have shown that there has been a rapid rise in new cases in Scotland in just 13 years.
"Our work in Scotland has also shown that Crohn's disease and ulcerative colitis affects a larger area of the bowel in children than it does in adults, making a diagnosis of either condition in childhood much more serious."
The study Rising Incidence of Pediatric Inflammatory Bowel Disease in Scotland was funded by the Medical Research Council and is published in the journal Inflammatory Bowel Diseases.