Edinburgh Waverley Station taxi and car ban 'could cost £1m'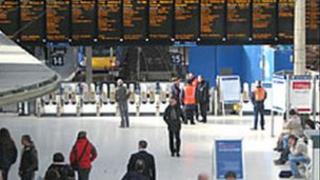 A ban on taxis and cars inside Edinburgh's Waverley Station could lead to a £1m bill for alterations to surrounding streets and pavements, it has been warned.
An Edinburgh City Council report has estimated the costs of making changes on Market Street and Waverley Bridge.
Talks on how the work - including pick-up and drop-off points - would be funded are ongoing with Network Rail.
It wants to remove vehicles from the station for security reasons.
However, Network Rail has delayed its plans to remove all traffic, except service vehicles, while discussions continue on the proposals.
The council said footway, kerb and pedestrian improvement works would cost an estimated £750,000, while taxi rank provision would cost about £150,000.
Road resurfacing on Market Street would cost £95,000.
Lesley Hinds, Edinburgh City Council's transport convener, said: "I am extremely concerned about this proposed closure and the effect it will have on passengers, particularly the disabled, frail and those with young children.
"The cost of providing extra taxi ranks and changing the roads infrastructure to accommodate this ban will be high and we need clarification about who will pay for this.
"Talks with Network Rail about these mitigation measures, as well as funding, are ongoing and I urge them to use common sense."