Pet ban for man Trevor Peacock who injured dog in Fife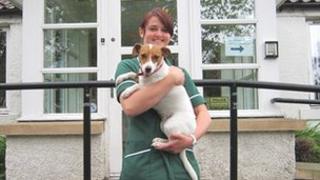 A Fife man has been banned from keeping animals for seven years after dragging and hitting his puppy off a pavement.
Trevor Peacock, 50, from Rosyth, was sentenced to 150 hours community service and ordered to pay the Scottish SPCA £1,000 in compensation.
He was sentenced at Dunfermline Sheriff Court on Wednesday.
He previously pled guilty to the offence, which happened on 7 September 2010, under section 19 of the Animal Health and Welfare (Scotland) Act 2006.
Haemorrhaging eye
Witnesses saw Peacock dragging the 12-week-old female jack russell terrier, named Askit, along the pavement and slamming her body off the kerbside to her severe injury.
She suffered fractures to both rear legs, extensive bruising to her underside and groin and haemorrhaging into her right eye.
She also had skin wounds on her legs, paws, and groin.
Now named Evie, the dog has fully recovered and has been given a new home by the vet nurse who helped her recover from her horrific ordeal.
Senior Inspector John Chisholm said: "We are pleased Peacock has been convicted of this mindless and brutal attack on what was a defenceless young puppy but we are disappointed that he did not receive a life ban on keeping animals.
"No animal deserves to be treated in such an abhorrent manner and we would have serious concerns for any animal in Peacock's care in the future.
"We are thankful to the witnesses who intervened and were able to take Evie to the vet for immediate treatment and pain relief and we are very grateful to the staff at Inglis Vets for all their hard work in treating and rehabilitating Evie back to full health."