Edinburgh Waverley Station taxi ban: Electric buggies for disabled people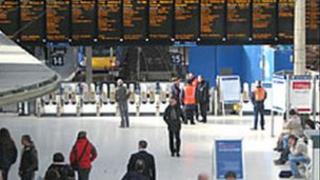 Electric buggies are being considered by rail officials as a way to minimise the impact on disabled people of a car ban at Edinburgh's Waverley Station.
Network Rail has come up with a raft of ideas in a bid to transport disabled and elderly people from a drop off and pick up zone in New Street.
It wants to remove vehicles from the station for security reasons.
Edinburgh City Council said it could cost about £1m to make alterations to surrounding streets and pavements.
Lifts at the Market Street and Waverley Steps entrances will be installed by the summer.
Free disabled parking of up to two hours will be provided in New Street car park.
Free parking for up to 30 minutes will also be allowed in the car park to allow for drop-offs and pick-ups.
Luggage trolleys will be located near drop off areas under the new vehicle ban.
'Permanent solution'
Station officials will be meeting with the RNIB and Guide Dogs Scotland to discuss specific requirements for blind passengers.
A Network Rail spokesman said: "We have been in contact with disability and elderly groups regarding the improvements being made at the station and we recognise that the removal of a drop-off area within the station will cause concern for some customers.
"We are developing a range of solutions to make the transition as easy as possible and are also committed to working with the council to find a permanent solution to provide taxi ranks and drop-off zones as close to the station as possible. The project will also consider contributing to the cost of works directly related to the removal of vehicles from Waverley."
Network Rail has delayed its plans to remove all traffic, except service vehicles, by July while discussions continue on the proposals.
An Edinburgh City Council report estimated the costs of making changes on Market Street and Waverley Bridge.
The council said footway, kerb and pedestrian improvement works would cost an estimated £750,000, while taxi rank provision would cost about £150,000.
Road resurfacing on Market Street would cost £95,000.