Edinburgh Legionnaires' outbreak: Victim makes legal bid for answers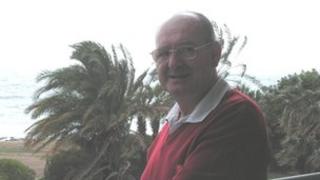 An Edinburgh man who contracted Legionnaires' disease has made a legal bid for answers about how the deadly outbreak started.
Terry Holleran, 55, is one of 41 people to have fallen victim to the disease in Edinburgh since 31 May.
All of those infected have connections to the south-west of the city, where the outbreak is believed to have been caused by a cooling tower.
The exact source has not been identified and investigations continue.
So far one man has died, 56-year-old Robert Air from the Seafield area of Edinburgh.
Mr Holleran, from Saughton Mains, became ill on 5 June with aches and pains, tiredness and breathlessness.
Mental state
He was treated at Western General Hospital but doctors sent him home with antibiotics because they feared his weakened immune system would allow other diseases in.
"It has been one of the worst weeks of my life," Mr Holleran said.
"I'm just so angry about the whole thing and want to know what went wrong to cause the outbreak.
"I've been stuck in a hospital bed and then housebound, and I want to know why, as well as how it could have been avoided and what is going to be done to stop this from ever happening again.
"Too many people have been affected by this and it is time that we all got some answers."
Mr Holleran said he has instructed specialist illness lawyers at Irwin Mitchell to help him find out how the outbreak occurred and what can be done to prevent it from recurring.
Elaine Russell, a partner at the firm's Glasgow office and who specialises in illness claims, said: "Our client's experience highlights the huge impact that this terrible outbreak is having on so many people across Edinburgh and the continuing need for authorities to quickly and thoroughly investigate every possible source.
"We are determined, for the sake of our clients and all of those affected by these problems, to discover what went wrong and will seek assurances from the authorities to ensure that there will be improvements in controlling the risk of illness to prevent something of this scale from being repeated in the future."
Suspected case
Legionnaires' disease is contracted by breathing in small droplets of water contaminated with Legionella bacteria.
Symptoms are mild headaches, muscle pain, fever, persistent cough and sometimes vomiting and diarrhoea.
They can begin at any time between two and 14 days after infection.
About half of those who catch the disease will also experience changes to their mental state, such as confusion.
Legionnaires' disease is not contagious and cannot be spread from person to person directly.
The latest reports on the outbreak show there are no further confirmed cases of the disease.
The total number of confirmed cases is still 41. There is one additional suspected case, taking this total to 48.
As a result the total number of overall cases is 89, an increase of one on Wednesday's figure.