Scottish teacher job prospects 'improving'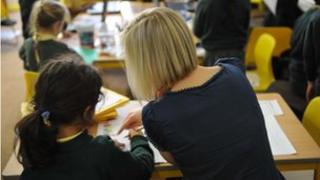 Job prospects for probationer teachers in Scotland have improved over the past year, a survey has suggested.
The annual General Teaching Council for Scotland survey showed a quarter of newly qualified teachers had secured full-time permanent employment.
This was up from a fifth at the same point last year.
The proportion of new teachers with full-time temporary contracts also increased from 25.5% to 34.2%, while the number not in employment dropped.
The survey indicated that 12% of probationers were not employed, down from 16% last year.
And there was a decrease in the proportion of probationers on supply teaching contracts.
Only 623 teachers out of a possible 2,748 took part in the survey, and the General Teaching Council for Scotland said there was no way to tell whether or not those who did not respond were more or less successful in obtaining employment than those who did respond.
GTC Scotland carries out a survey every spring of teachers who have participated in the Teacher Induction Scheme probation programme.
The survey is intended to show teachers' experiences of obtaining employment once they have gained the Standard for Full Registration and become eligible to apply for a permanent teaching post in Scotland.
Anthony Finn, chief executive of GTC Scotland, said the figures showed an improving picture of the job prospects for probationers.
But he added: "There are clearly still difficulties; too many talented teachers are struggling to find employment and there appears to be a prevalence of temporary teaching contracts which cannot be good for the stability of the profession, and the consistency of teaching for our young people.
"However, it looks like the figures 'bottomed-out' in 2009-2010 and are now rising which is a positive sign.
"The response rate to this survey is disappointing, but it is still a valid sample and provides us with useful information about the employment prospects of our probationer teachers, who are some of the best qualified and most talented anywhere in the world."
Teacher unemployment in Scotland is lower than anywhere else in the UK as 88 per cent of probationer teachers found employment last year according to figures released today by the General Teaching Council of Scotland (GTCS).
'Short term supply'
The latest GTCS survey confirms an increase of 4.2 per cent from last year in the employment rate for teachers who have finished their induction period in Scotland.
The survey is in line with recent job seekers allowance figures that show claims by teachers have fallen by 28% over the past year.
Education Secretary Michael Russell said the Scottish government intended to keep teacher numbers in line with pupil numbers.
He said: "These results show that probationer teacher employment is better than in each of the last two years.
"The Scottish government is determined to do all we can to help individuals who have chosen and committed to a career in teaching to be able to do just that and enable our children and young people to achieve all they can.
"This is why, as part of our budget agreement with Cosla, local government has undertaken to maintain teacher numbers in line with pupil numbers."
Larry Flanagan, general secretary of the EIS teaching union, welcomed the figures but said more still needed to be done to ensure that sufficient numbers of stable employment opportunities are made available across Scotland.
He said: "The agreement that was reached last year between the EIS, the Scottish government and local authorities placed an emphasis on securing teaching jobs and creating employment opportunities by guaranteeing a set number of teaching posts across Scotland.
"The evidence provided by the GTC Scotland survey is that this agreement has had a positive impact on the employment of newly qualified teachers, although we recognise that there is a need to re-visit the issue of short term supply teachers."