Edinburgh Legionnaires' outbreak: Case numbers static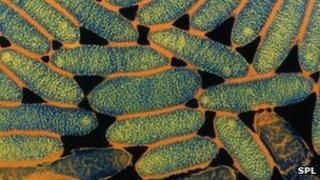 Latest reports on the Edinburgh Legionnaires' disease outbreak which has left two people dead show no new suspected or confirmed cases.
Health Secretary Nicola Sturgeon said it was further evidence the outbreak had "reached its peak".
To date there have been 42 confirmed cases and 47 suspected cases, centred around the south west area of the city.
The number of people in intensive care has fallen to seven - down from a high of 15 a week ago.
A total of 17 cases are now on general wards with 18 being treated in the community and 38 people have been discharged.
Seven cases are being treated outwith the NHS Lothian area.
The ages of the confirmed cases range between 33 and 81, with more males than females affected.
The Health and Safety Executive and Edinburgh City Council are continuing their investigations into the possible source of the outbreak.
Dr Duncan McCormick, consultant in public health for NHS Lothian, said: "I am pleased to see that once again the total numbers of patients with Legionnaires' disease remain unchanged.
"It is also very encouraging to see that two more patients have recovered and been discharged home in the last 24 hours.
"This reflects the hard work and quality ongoing care being provided by staff across NHS Lothian."