Kinghorn lifeboat rescues two from Forth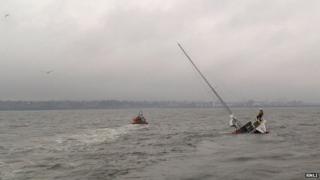 Two men were rescued after their yacht hit rocks and was partially sunk.
The 40ft catamaran yacht hit rocks to the south of Inchkeith Island at about 09:00
It sustained serious damage to the port hull which caused the vessel to partially sink.
The catamaran was returning to Granton from Anstruther when it hit rocks near the Little Herwit rock, south of Inchkeith.
The two people were rescued by Kinghorn RNLI crew, supported by a Forth Ports pilot boat.
Helmsman Keith Hay said they had been lucky to be rescued as the Forth was still very cold at this time of year.
He added: "When we arrived, the vessel was taking on a lot of water and the two casualties were preparing to abandon the catamaran.
"They had a dinghy with them. However, the pump to inflate it was out of reach in the part of the boat under water. Fortunately we were able to arrive soon after their distress call before they had to enter the water.
"The vessel was then towed to Granton, where it was secured in the harbour. Our towline parted at one point due to the weight and duration of the tow. However, we were quickly able to get the boat back under control."