Mohamed Ben El Hassan raped one woman and attacked another in Fife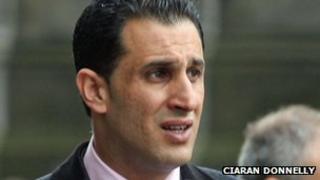 A man has been found guilty of raping a woman in a hotel room and kicking out another victim's teeth in a separate street attack months earlier in Fife.
Mohamed Ben El Hassan, 35, assaulted and raped the woman after meeting her and her sister in a Dunfermline club.
El Hassan, from Dunfermline, had denied assaulting and raping her on 1 January 2011 at the Travel Lodge.
He had also denied causing severe injury and disfigurement to Katherine Shade on 8 August 2010 in Dunfermline.
The woman who was raped said that in January last year El Hassan had jumped on top of her. She told the court she wanted to scream but added: "I couldn't breathe."
"He was licking my face then he tried to bite my mouth open. He bit my lip. I couldn't push him off, I just couldn't," she said. She added: "I just felt pain."
Teeth missing
The woman told the High Court in Edinburgh: "He just forced himself on me."
She said she thought the attack lasted several minutes before her sister came in and grabbed El Hassan.
Ms Shade, 24, an English teacher, was studying for a Masters degree and living in Edinburgh at the time she was assaulted five months earlier.
She had returned to Dunfermline to go on a night out with friends when she was attacked while walking alone.
Ms Shade told the court: "As soon as I was on the ground I got this blow to the face. I got a kick in the face."
She said she realised she had teeth missing.
A judge rejected a bid to continue El Hassan's bail and remanded him in custody ahead of sentencing next month.
Lord Brailsford called for a background report to be prepared and ordered that he should be put on the sex offenders register.