Edinburgh Legionnaires' outbreak: Cases rise to 95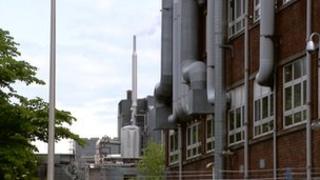 The number of people thought to have been affected by an outbreak of Legionnaires' disease in Edinburgh has risen to 95.
There are now 48 confirmed cases and 47 suspected cases, with three of the patients in intensive care.
The first case was identified on 31 May and two people have died.
It is thought there was a common airborne exposure to the Legionella bacterium over south west Edinburgh but the exact source has not been located.
The Scottish government said that the 95 cases included 12 people being treated in general wards, 20 being treated in the community and 51 who have been discharged from hospital.
Seven cases are being treated outwith the NHS Lothian area.
Cooling towers
The ages of the confirmed cases ranges between 33 and 85, with more males than females affected.
The Health and Safety Executive and Edinburgh City Council are continuing their investigations into the possible source of the outbreak.
Health Secretary Nicola Sturgeon said: "As well as the efforts being made by health service staff to treat those who are critically ill in hospital, a tremendous amount of work is being undertaken by the Health and Safety Executive and the City of Edinburgh Council to identify and deal with the source of the outbreak."
Initial tests on cooling towers at the centre of the Legionnaires' outbreak in Edinburgh proved inconclusive.
However, an incident management team (IMT) concluded last week there was evidence which suggested the source of the exposure was "most likely to have been the cluster of cooling towers in Wheatfield Road".
The most common type of Legionella bacterium, Legionella pneumophila serogroup1, has been identified as the cause of infection in patients.