Dalgety Bay radiation: MoD has 'no record' of beach risk report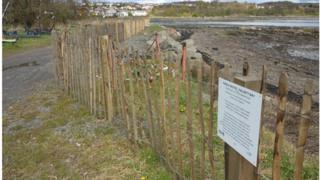 The Ministry of Defence says it has "no record" of a 1958 report that warned of the potential radioactive risks at wartime aircraft dumping sites.
UK Minister for Defence Andrew Robathan made the claim in a letter to SNP MSP Annabelle Ewing earlier this month.
It follows the BBC's Face The Facts programme in May, which tracked down a copy of the report.
Radiation at the site at Dalgety Bay in Fife is believed to be from radium paint used on aircraft instruments.
Radiation was discovered at the beach by accident 20 years ago.
Ms Ewing, Mid Scotland and Fife MSP, which covers Dalgety Bay, said she was disappointed the MoD had failed to undertake a full investigation as to why the report was not passed on to the relevant department.
She said: "Mr Robathan's reply is disappointing as it does not detail why this report was not passed on to the relevant department.
"The MoD is not investigating why the Disposal of Radioactive Waste report failed to reach the appropriate department - despite it saying that records should be kept and 'handed on to future users of the land'.
"The people of Fife will be aghast that - after years of misery and mistakes about radioactive material at the beach - the MoD has refused to look into why this report was overlooked.
"The safety of the people of Fife must come first - but the MoD's refusal to take this matter forward and address my concerns about what other information could have been withheld raises serious questions.
"It is outrageous the MoD continues to shirk its responsibilities - particularly as a third 'significantly radioactive' particle was found only last week outside a cordoned-off area at Dalgety Bay."
The Ministry of Defence is currently investigating how the radioactive pollution might be cleaned up, but has yet to accept liability.
In a statement it said that where liability for contaminated land is identified the ministry works to meet its portion of that liability.
It has been warned that part of the beach could be designated as the UK's first radioactive-contaminated land.
The Disposal of Radioactive Waste report, written in 1958, warned of "undesirably high levels of radiation" at sites where aircraft were broken down and stated that records should be kept and "handed on to future users of the land".
The 1958 report was written just a year before the MoD's base at Donibristle - now Dalgety Bay - was closed and later sold on for development.
For 20 years radioactive particles, thought to have been released by coastal erosion, have been found and removed from a stretch of beach.
Some of the most recent were described by the Scottish Environment Protection Agency (Sepa) as a "significant hazard to human health", capable of causing radiation burns and an increased risk of cancer if ingested.