Midlothian Council leader resigns after eight weeks in the job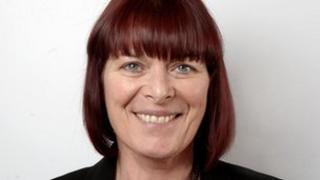 The leader of Midlothian Council has resigned after just eight weeks in the post amid claims of a rebellion within her SNP group.
Lisa Beattie, 59, was appointed on 22 May after her party went into coalition with independent councillor Peter de Vink.
There will now be a special meeting next Tuesday to select a new leader.
It is understood Ms Beattie had been told to resign or she faced a vote of no confidence at a meeting on Tuesday.
Kezia Dugdale, Labour MSP for the Lothians, said: "People in Midlothian must be wondering what on earth is going on.
"They deserve better than this backstabbing and infighting.
"The council should be focussed on the big issues like jobs, housing and schools."
A Midlothian Council spokesman said: "Lisa Beattie has resigned as leader of Midlothian Council.
"A special meeting of Midlothian Council will take place on Tuesday 3 July to elect a new council leader.
"Until a new leader is elected, the duties of council leader will be managed on an interim basis by depute leader, Jim Bryant."