Shazia Johnston jailed for killing lover Lisa-Ann Quigley in Kirkcaldy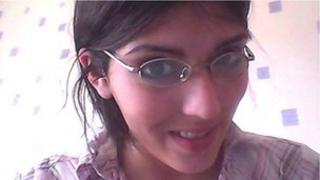 A mother who stabbed her lover to death after she was taunted for being a "mummy's girl" has been jailed for nine years.
Shazia Johnston was found guilty last month of stabbing a knife into the heart of Lisa Ann Quigley, 30, at her Kirkcaldy home on 11 October 2011.
Johnston was convicted of culpable homicide while under provocation.
She had been accused of murder, but was found guilty of the lesser charge after a trial at the High Court in Glasgow.
Johnston said she lashed out to stop an attack on her and her toddler son, but she had no injuries.
The court was told during the trial that the couple had a turbulent relationship, including claims that Miss Quigley thought Johnston was cheating on her with men.
Johnston also disposed of the knife she used to kill Miss Quigley and it was never found.
She was found guilty of concealing the knife she used to kill Miss Quigley.
Johnston was jailed for eight years for the killing and a further year for concealing the knife.
On Thursday at the High Court in Glasgow temporary judge John Beckett QC told 25-year-old Johnston that she had carried out "a callous and calculated" act.
Judge Beckett added: "At the age of 30 Lisa Quigley lost her life at your hands.
"I accept the behaviour of Miss Quigley was difficult that day.
"She may have pulled your hair and made threatening gestures with a knife towards you.
"However, this was a very violent killing.
"You stabbed her through the heart and she bled to death. She had defensive injuries to her hands and legs which suggest she was sitting down when she was attacked.
"As she lay dying you waited 12 minutes before calling an ambulance.
"Her injuries were such that they were not survivable, but you did not know that."
Solicitor advocate Gordon Martin, defending, said: "Miss Johnston and Miss Quigley were clearly in love, but their relationship was mutually destructive.
"She has asked me to express her regret for what happened."