Codes to be sewn into Scottish Diaspora tapestry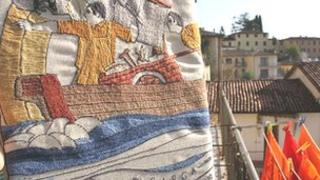 The people behind the the longest tapestry in the world now have their sights set on a global project to record the Scottish Diaspora.
The Scottish Diaspora Tapestry has had £80,000 from Creative Scotland and £60,000 from the Scottish government.
It is being embroidered by volunteers from communities around the world where Scots have settled over the centuries.
The tapestry will incorporate codes which will lead smartphone users to history depicted in each panel.
QR codes
Professor Petra Wend, principal of Queen Margaret University, Edinburgh, has seen at first hand the use of the technology in Barga in Italy where they are routinely used on artwork all over the town.
She said: "This project demonstrates a very creative use of QR codes, which are now being used in innovative ways throughout the world. The tapestry merges a traditional art form with the use of modern communication technology which will help appeal to younger people as well as educating and informing audiences across the generations."
At least 25 communities will take part, from North America, Australasia, Europe and Africa - all places with ties to the Diaspora.
All the panels will be finished by January 2014 and will be brought together in Scotland as a central part of the Homecoming 2014 celebrations.
The Battle of Prestonpans Tapestry, the biggest tapestry in the world, was created to illustrate the Jacobite rising and is 104m in length.