Garry O'Connor sentenced for possessing cocaine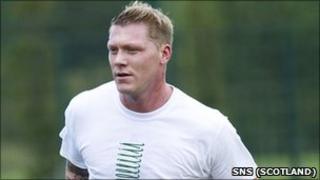 Scotland footballer Garry O'Connor has been ordered to perform 200 hours of community service for possessing cocaine and obstructing police.
The striker, who played for Hibernian last season, was found guilty earlier this month after a trial.
Edinburgh Sheriff Court had heard that police in the city saw him snorting drugs in a car on 14 May 2011.
He fled after giving police a false name, only to be caught a few hundred metres away.
Sheriff Derrick McIntyre told O'Connor that he could have been jailed for up to 12 months for both offences.
He told the footballer he would have been fully justified in sending him to prison for possessing the significant amount of the Class A drug.
The sheriff added: "I would have thought someone in your position, a footballer in the public eye, would have set some example to other people, including your own son."
Sheriff McIntyre also told O'Connor's defence agent, Greg Farrell, that half an ounce of cocaine was "quite a lot".
Mr Farrell said: "I don't think there is anything to suggest it went beyond simple possession.
"He is a young man, who given his profession had a lot of money and a lot of attention. He is now 29 and should know a lot better."
O'Connor's lawyers at Bridge Litigation later said the footballer would be appealing his conviction.
The law firm said in a statement: "He has now instructed an appeal which will seek to challenge the entire conviction from Edinburgh Sheriff Court."