Huge blaze at Capital Cartridges in Bathgate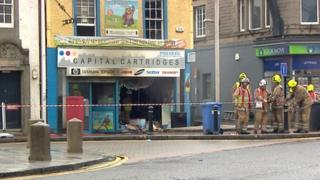 A large part of Bathgate, West Lothian, was closed to traffic for six hours while emergency services battled a huge fire in a commercial building.
About 40 firefighters tackled the fire at Capital Cartridges in George Place following the incident at 09:00.
The two-storey building is thought to contain printing chemicals. It is understood an electrical fault could have caused the fire.
Glasgow Road was closed eastbound with traffic diverted along Bridge Street.
There were also two road closures at the Fairway Hotel with the junction of Whitburn Road.
Barriers were also put in place at King Street/Academy Street.
Fire crews used four hoses and breathing apparatus, and checked the roof space to try to contain the blaze.
A supervisor from Capital Cartridges said they were "devastated" about the fire.
Cartridge World was taken over by its current owners about five years ago and renamed Capital Cartridges.
There are three other branches of the business based in Edinburgh.
At the height of the fire there were six fire engines and five special appliances.
Do you have pictures - still or moving - of this incident? Send them to the BBC Scotland news website at newsonlinescotland@bbc.co.uk
Please ensure when filming or photographing an incident that you make your safety and the safety of others a priority.
If you submit an image, you do so in accordance with the BBC's Terms and Conditions.