Glenrothes art in new photography exhibition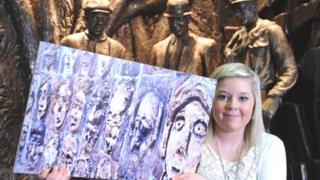 More than 100 sculptures across a Fife new town are being celebrated by a major photography exhibition.
The exhibition by Historic Scotland, which listed four of the Glenrothes works last year, was opened by Holyrood Presiding Officer Tricia Marwick.
Begun in the mid-1960s, the sculptures were central to the creation of the new town.
Images from the contest are on display at Rothes Halls, Glenrothes, until 9 August.
Ms Marwick said the people of the town held the public art in high esteem, and that the sculptures gave "the town its soul".
She said: "It is a very rare thing indeed to get artwork listed, and I want to thank Historic Scotland for that."
Elizabeth McCrone, Historic Scotland's head of listing and designed landscapes, said: "The photos in the exhibition reflect the enthusiasm people feel for these special sculptures, which are significant in a Scottish and international context."
The collection ranges from naturalistic figures, such as "The Working Men" by Malcolm Robertson, to huge animal sculptures including "Feeding Hippos" by David Harding and Stanley Bonnar.