Rosslyn rapist Robert Greens threatens to reoffend, a court hears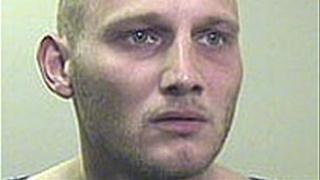 A convicted rapist who was rehoused in the Midlothian community where he committed his crime has threatened to reoffend, a court has heard.
Robert Greens, 34, was jailed in 2005 for attacking a Dutch student in the grounds of Rosslyn Chapel.
The court heard he felt so enraged by the presence of protesters outside his home that he threatened to reoffend.
The claim emerged at an Edinburgh Sheriff Court, where police won an order to control his movements.
The order runs until 6 August, when a hearing will determine whether it is granted on a permanent basis.
Until then, Greens is not allowed to contact his ex-wife, members of her family and must notify police of his movements.
Officers are also able to knock on his door at any time and he is obliged to answer their queries.
The hearing comes just weeks after about 1,700 people surrounded the rapist's home in Newtongrange, calling for him to be moved to another location.
Campaigners have since said were told that Greens must be housed in Midlothian, because every local authority in the UK was unwilling to provide him with housing.
Greens is fighting the attempt by the police to have the Sexual Offences Prevention Order (SOPO) imposed upon him, arguing that it contravenes his human rights.
The SOPO would grant law enforcement agencies the opportunity to constantly monitor him.
Speaking on Wednesday, Lothian and Borders Police solicitor Andy McGlone told the court the force needed to have the SOPO granted to protect the public.
'Feelings of humiliation'
He added: "He (Greens) has contacted the police and the social work department at Midlothian Council to tell them about how he fears that he will reoffend.
"The police have on occasion attended at his home to talk him down and dissuade him not to commit more offences.
"The trigger factors for reoffending are present - he is currently experiencing feelings of rage, loss of control and feelings of humiliation.
"He is angered by the constant presence of 60 odd protesters outside his home. I would ask your ladyship to extend the order. It is necessary to maintain public order and safety."
Greens' solicitor Tony Kelly said his client had contacted police because he was concerned about the terms of the SOPO order, and had not threatened to break the law.
Mr Kelly added: "He is virtually a prisoner in his own home. He contacted the police to seek advice about the terms of the order."